Awakened Woman Retreat | Lake Atitlán, Guatemala

Ladies this one is just for you...
Awakened Woman Retreat is about sisterhood and connection. We will take a deep dive into the ever changing roles for woman today as mothers, daughters, business owners, leaders in the community, and as yoga practitioners.
This 5 night experience will take place in the magical lands of Lake Atitlán, Guatemala, rich with a thriving indigenous Mayan tribe. Join us for transformative yoga classes led by Leslie & Terri in the spectacular open air lake front practice space, delicious locally sourced vegetarian meals, incredible rooms with majestic views of the lake and 3 volcanos, airport shuttles and launchas (local boats) a guided hike to ancient Mayan carvings, and some cultural tours to a few lakeside pueblos.
We have chosen Isla Verde as our home, an eco-chic boutique hotel set in the hillside of the local village Santa Cruz la Laguna, tucked into the Guatemalan Highlands. All the rooms are boasting with spectacular views of Lake Atitlán.
Come and find your tribe, connect with other woman, connect with yourself and with nature. This main event will be deeply sacred, delivering our community into a space of connection, trust and deep healing. It will be MAGIC!!!!
And for those wanting to extend their stay we've got an optional 2 night add on in Antigua, the original Capital of Guatemala. The city of Antigua is a quaint colonial one with cobblestone streets and and a rich culture for shopping, dining and nature. This additional adventure will be more about freedom and fun.
The Retreat includes:
5 nights luxury accommodations at Isla Verde Retreat Center, on majestic Lake Atitlán, Guatemala

*Complimentary shuttle service to and from Guatemala City Airport (*shuttle service must be with the group, if you need shuttle service at a different time Isla Verde can help you arrange that)

Incredibly tasty, organic, locally sourced vegetarian Breakfast, Lunch & Dinner

Unlimited filtered water, coffee and tea

deep, juicy and inspiring practices led by Terri & Leslie

Beautiful and serene lakefront campus, boasting incredible views of the volcanos

Traditional Mayan Ceremonies, Hiking, Cultural tour to traditional Mayan Pueblos

Daily free time for additional excursions, body work, kayaking, snorkeling and other soothing outdoor activities

Time for reflection, rest and relaxation
The Property:
Hotel Isla Verde is an eco-chic boutique hotel set in the hillside of a local village in the Guatemalan highlands. Choose between cozy yet spacious private cabins set on the hillside, share one of the gorgeous suites… All boasting spectacular views of the great wonder that is Lake Atitlán. Enjoy breakfast, lunch and dinner in the lakefront restaurant serving locally sourced home-cooked meals or sip a cocktail or smoothie on our sun deck.
The Food: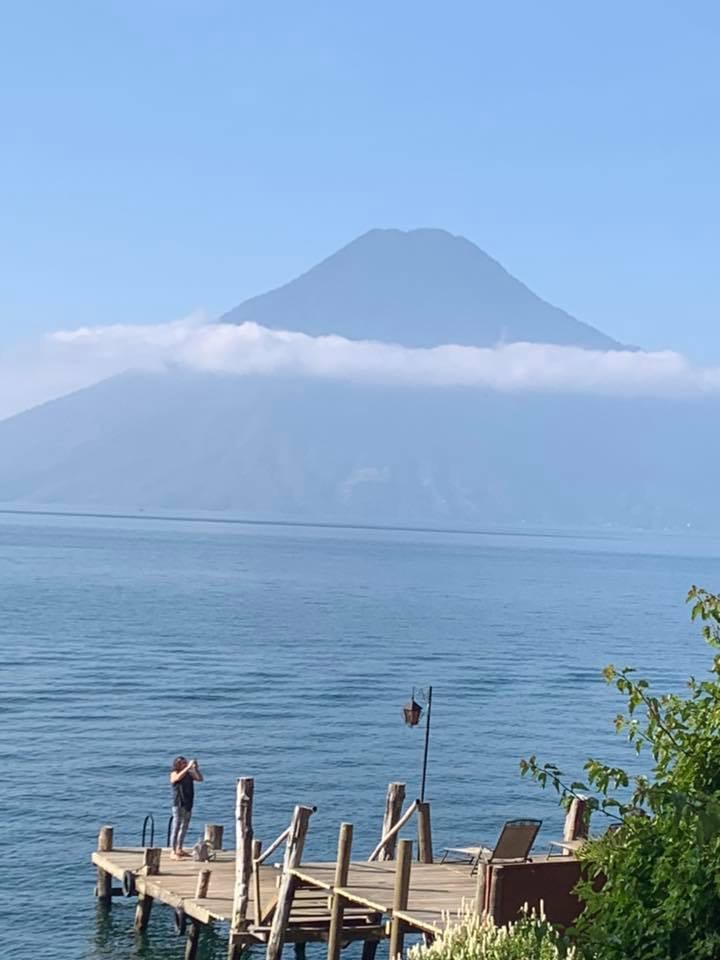 Travel Details:
Please fly into Guatemala City (GUA) on November 2 and arrive no later than 11:30am so that you can take the group shuttle leaving at 12:30pm.

The shuttle is approximately 3.5 hours.

The shuttle cost from GUA to our retreat location is complimentary with your registration, as long as you meet the group at the airport in time to take the shuttle at 12:30pm on November 2.

If you can not land in time to take this shuttle, we suggest you fly in a day early. You can stay in Guatemala City. The travel costs here will not be included, but we are happy to support you with arrangements.

Flying from Fort Lauderdale:
The suggested flight is:
Spirit Airlines Flight #243
November 2, 2019
departs FLL at 10:35am

Return flight is
Spirit Airlines Flight #244
November 7, 2019
departs GUA at 1:12pm
*If you're joining us on the extension, it will be the same flight number, but leaving on the 9th.

As you book your flights, please send them to Jen@Chakraology.yoga
Bring a friend, or travel alone and we'll assign you a roommate or two.

Retreat Cost (per person):
$2800 - Private Cabin Single Accommodation (LIMITED AVAILABILITY) FYI these cabins are up a hill and require taking many steps. The views are the best on property and worth the hike!
$2300 - Private Cabin Double Accommodation
$1850 - Shared Suite (5 or 6 people, one or two shared bathroom)
*Please note this property sits on the side of a mountain with beautiful pebbled paths. If you have any questions about accessibly please reach out to us.
The extension in Antigua is an additional $500 and space is limited. See below for more details.

Payment plans available:
A. Pay deposit here and the remainder in Full
B. Pay deposit here then break the balance into 2 equal payments.
C. Pay deposit here then break the balance into 3 equal payments.
D. Pay deposit here then break remaining balance up into monthly payments.
E. I need a personalized payment plan. Please call me to discuss.
Not included:
- Airfare
- Additional shuttles if your arrival does not align with the group travel schedule
- Spa services and additional excursions
- Gratuities for hotel staff (suggested is $7 per day per person).
- Extension in Antigua (see below for additional details)
Ready to book?
Please fill out registration form and pay deposit.
Your registration will not be complete until you have paid the deposit.